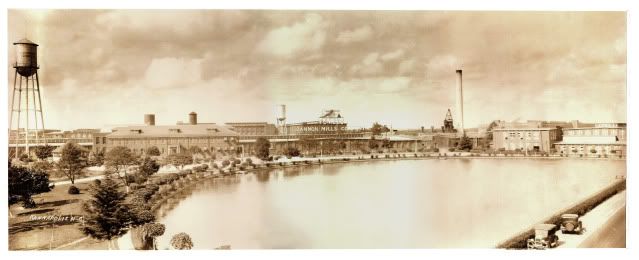 I've decided to include Cannon Mills as part of one of my stories because of the long history it has with different parts of my family.
Name of Company
Cannon Mills was purchased four times, and had four names.
Cannon Manufacturing Company (1888–1921)
Cannon Mills Company (1921–1983)
Fieldcrest-Cannon Corporation (1983–2001)
Pillowtex Corporation (2001–2003)
Cannon Manufacturing Company
In 1887
James William Cannon
founded the Cannon Manufacturing Company in
Kannapolis, North Carolina
. His goal was to produce a basic textile product instead of yarn making or a product in which another company could produce. His company produced towels that were sold under the brand name "Cannon Towels". Ten years later, he opened another mill in Concord, North Carolina.
In the year 1905, Jim Cannon designed and purchased 600 acres (2.4 km
2
) of land in northwestern
Cabarrus County, North Carolina
. The land was formerly used as a cotton plantation. He laid out a plan for a small mill village with homes for the workers. By 1907, the first mill was completed just west of what was Town Lake. The mill, known now as Plant 1, was opened in 1908 after a brief two-year cotton shortage.
By January of the next year, the Cannon Manufacturing Company had employed 840 people in its single Kannapolis plant. James William and his company not only built hundreds of homes for the mill workers, but also a world-class
YMCA
facility. At that period, it held the largest membership in the world. He also donated land and money for school construction and education. That year, the first school, McIver was opened. Cannon erected stores, businesses, and churches. Cannon also donated funds to the Cabarrus County Government to improve the main road leading to Kannapolis from Concord. In 1917, James Cannon arranged a life insurance policy for all Cannon employees. This had never yet been done for employees of a company.
Nineteen twenty-one was an important year for the Cannon Mills Company. A strike occurred in the localized
Charlotte, North Carolina
area, affecting all textile mills in this area. Charles A. Cannon was already in charge of Cannon Mills affairs, since his father was trying to recuperate from ill health. The correspondence between James W. Cannon and his son reveal that Charles was doing an exemplary job handling affairs and not recognizing the union activities. On June 1, 1921, the members of the United Textile Workers Union of America went on strike. Employees starved as the union failed to support the strikers. Although Cannon called the
National Guard
to "keep the peace," the strike ended because union official fled town after union corruption. Cannon Mills did not unionize during this attempt, which left the whole
World War I
generation skeptical of labor unions.
Cannon Mills, Co. Plant 1 Kannapolis, NC
J.W. Cannon was recently elected as Chairman of the Board and his son, Charles Albert, was made president of the Company. Later that year, Jim Cannon developed an unknown illness in the winter of 1921. He was reported dead at 6:00pm on December 21, 1921. Ironically, he died at the same time as when the afternoon whistle blows for quitting time at the mill. He was buried at Oakwood Cemetery in downtown Concord. The Cannon Manufacturing Company was left to its president and the youngest son, Charles. By the time of J.W. Cannon's death, the population of Kannapolis was roughly 6,000 citizens and the mill had employed about 15,000 workers.
Source and the rest of the history
Family members that have worked at Cannon Mills:
Stephen Randall Gentry Sr
James Macklin Gentry -
tree link
Ruby Claywell Gentry (Hamilton) - retired from CM
Pauline Barnhardt (Hamilton)
Robert Warren Hamilton - retired from CM -
tree link
Jake Barnhardt - retired from CM -
tree link
Claude Wilson Hamilton - retired from CM -
tree link
Claude William Hamilton -
tree link
Clara Hamilton -
tree link
Lula Hamilton -
tree link
Jack Hamilton - retired from CM -
tree link
Charlie Hamilton - retired from CM -
tree link
Ollie Cauble -
tree link
Will Yost - retired from CM -
tree link
Charles Tilley - retired from CM -
tree link
Vance Tilley - retired from CM -
tree link
Lee Tilley - retired from CM -
tree link
Marvin Tilley - retired from CM -
tree link
Woodrow Tilley - retired from CM -
tree link
Sidney Adolphus Fink -
tree link
Grandma Gentry Cannon Mill House Stories
Grandma Gentry was born in a mill house on North Popular St., Kannapolis, NC In 1923. These were houses owned by Cannon Mills and rented out to employees. At the time there was an outhouse in the back and the house water was located on the porch. The average electric bill was less than $1. Grandma's job was to fill up the tea kettle on the back porch when she was young.
Claude Wilson Hamilton once got in a fight will a fellow employee and the mill made Claude move out of the house. She said she thinks the man said something about Lula Hamilton, his wife. Fortunatly Claude had been injured working in the mill earlier in his career and was guarenteed a lifetime job their. Eventually Claude retired from Cannon Mills.
Cannon Mills House 1912