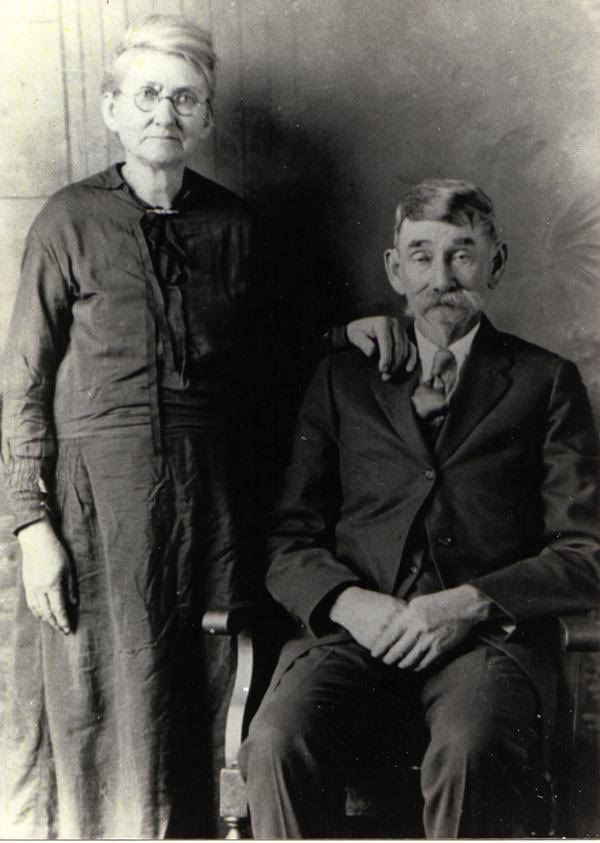 John R. and Darcus Euart
John Ramsey Euart started out as John Ramsey Ewart on 20 July 1863 in Mecklenburg County, NC. He was the son of Joseph Ramsey Ewart II and Mary Elizabeth Barnett. He had for brothers: Samuel Knox Ewart b. 1851, William Layayett Dixon Ewart b.1847, Silas Septimus Manly Ewart b. 1853 and Joseph Walter Phar Ewart b. 1847. His father, Joseph Ewart II and grandfather, Joseph Ewart died the year he was born. According to the 1870 census his mother was keeping house while three of his brothers were working on the farm in Huntersville, NC.
Sometime in the 1880's and 1890's John ran a distillery near Rock Cut, NC (Source: The Landmark Newspaper). This area was somewhere in Iredell County, NC. John was arrested November 5, 1895 by Duputy Marshal R. P. King with a warrant and charged with illicit retailing (selling liquor). This story was carried in The Landmark (Statesville, NC Newspaper) and the Charlotte Observer.
November 6, 1895 Charlotte Observer
John's mother died in 1896. Two years later on October 10th, 1888 John married Darcus Luella Brigman b. 1870. John and Darcus had the following children: Samuel Baxter Euart b. 1907, Mary Jane Euart b. 1890, Lottie Irene Euart b. 1894, John Ramsey Euart II b. 1898, Dexter Brite Euart b. 1899, Darcus Lille Euart b. 1903, Joseph Florence Euart b. 1905 and Robert William Ewart b. 1911.
1910 Census
According to the 1900 census John and Darcus lived in Huntersville, NC and John was farming. By 1910 John and Darcus were living in Concord, NC on Misenheimer Avenue. At this time John Sr. was still a farmer. John II, age 14, was a doffer at a cotton mill. A doffer was one who changed the spools once they were full. Lottie, age 15, and Brite, age 11, were both spinners.
Odell-Locke-Randolph Cotton Mill
(Most likely the mill they worked at)
By 1930, according to the census, John Sr. and wife had moved to the Gold Hill Township in Rowan County, NC. They were renting a house and living on a farm where John Sr. was still a farmer. At this point John Sr. was 66 and Darcus was 59. In this census is when his name was taken as John R. Euart.
According to my Great Uncle Calvin Ewart John Sr. and Darcus moved around many times. It is believed that John Sr. changed his last name to stay out of trouble with the law. There are many generations of Euarts' from and in the Rockwell area that still have the Euart last name. My Grandpa (Ed Ewart) and his brother (Calvin Ewart) changed there last name back to the correct spelling of Ewart.
When John Sr. and Darcus were older they separated and John Sr. moved to Spartanburg, SC to live with his daughter.
John Sr. died 11 Jun 1941 in Spartanburg, SC of a Stroke and his body was brought back to Rowan County, NC to be laid to rest at Lower Stone Cemetery in Rockwell.
Darcus died 20 Jul 1943 of a stroke. She was laid in rest next to her husband.
John R. Euart's Death Certificate
Headstone at Lower Stone Cemetery
John Ramsey Euart Stories by Becky Smith (Ewart).
Story 1
John R. Euart was on a horse and wagon. They had crossed the river around high rock and
revenuers
stopped them once they were on the other side. They said "These papers give us the right to search your wagon". Ramsey reached behind him and pulled out a gun and said "This gun says you don't have the right." This was a guy that was riding with John R. Euart that told Ed Ewart about this story later. He was a boy or teenager at the time.
Story 2
Revenuer or the law went to John R. Euart's house to search for moonshine. There was a barrel and his wife sat on the barrel with her dress covering it. They searched the house and didn't find the barrel of moonshine and left empty handed.
Me - Randy Gentry
Becky Ann Ewart - Mother
James Edward Ewart - Grandfather
Samuel Baxter Euart - Great Grandfather
John Ramsey Euart - 2nd Great Grandfather
Link to John Ramsey Euart's Tree