James Macklin Gentry was born July 13th, 1916 to Noah Macklin and Luzeny Elizabeth Gentry in Abingdon Virginia. He had 5 sisters: Cora, Sarah Elizabeth, Hattie L., Rose Ellen and Mary Emmaline Gentry. He went by Jim Gentry. Jim went to school until the 6th grade and spent the rest of his childhood helping his father with the farm in Abingdon, VA.
Jim is on the left. Not sure which cousin is on the right.
Around 1939 Jim decided to move to Kannapolis, NC to seek a higher paying job at Cannon Mills. While in Kannapolis he boarded in a house right down the road from Ruby Hamilton. They met one day as she was being photographed in her yard. A short time later they started dating. In 1941 Jim decided to join the Army Air Corps. He sold his car to the woman that owned his boarding house. Jim wasn't required to serve in the Air Corps due to being the only male in his family. He broke off his relationship with Ruby Hamilton not knowing if he would make it back from the war.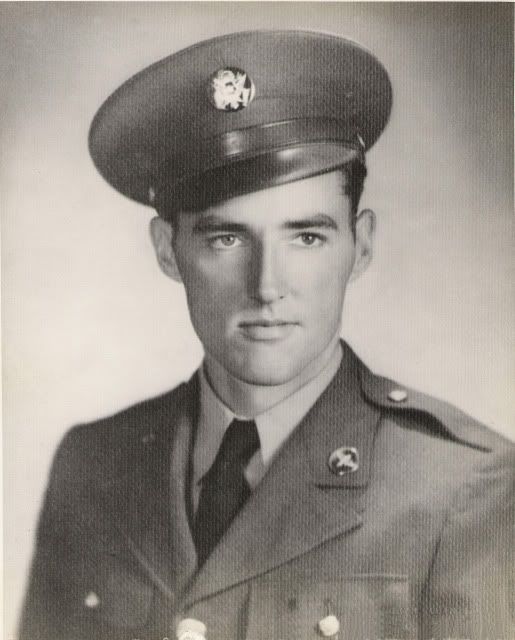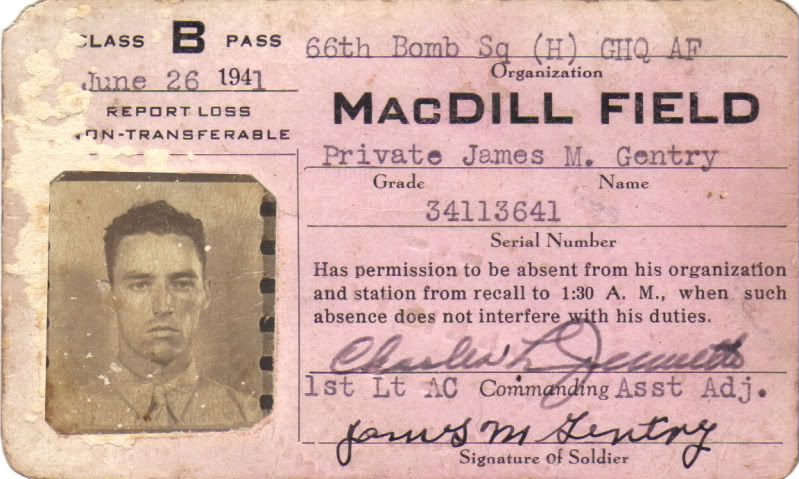 Jim joined the Army Air Corps on the 30th of May 1941 with the 66th Bomber Squadron. They deployed to the European Theater of Operations (ETO), being assigned to VIII Bomber Command in England during the summer of 1942. Source (
http://en.wikipedia.org/wiki/66th_Missile_Squadron
). His duty when he joined was to pull planes in and out of the hangers and re-fuel the planes. He had PT (physical training) every morning.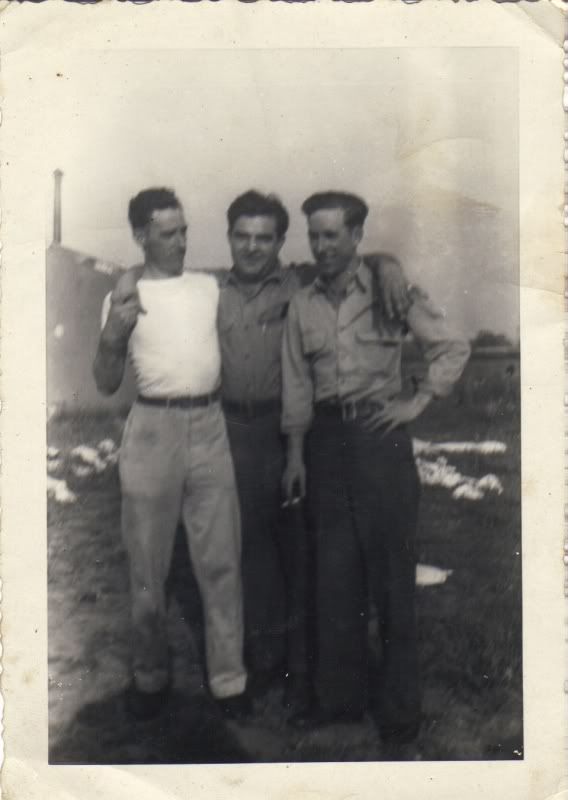 Jim is on the far left.


Jim didn't really care for the PT so when he discovered that cooks didn't have to do PT every morning he made the switch to Squadron A, 211 BU. He made the rank to Sergeant and became the head cook. He was the only person with the key to the ice cream. Jim was Honorably Discharge on the 7th of October 1945. He received several medals ; the Good Conduct Medal 1943, American Defense Service Medal, European African Middle-eastern Service Ribbon, Distinguished Unit Badge GO 78, 5th of Nov 1943 and the Distinguished Unit Badge GO 56 the 12th of July 1944.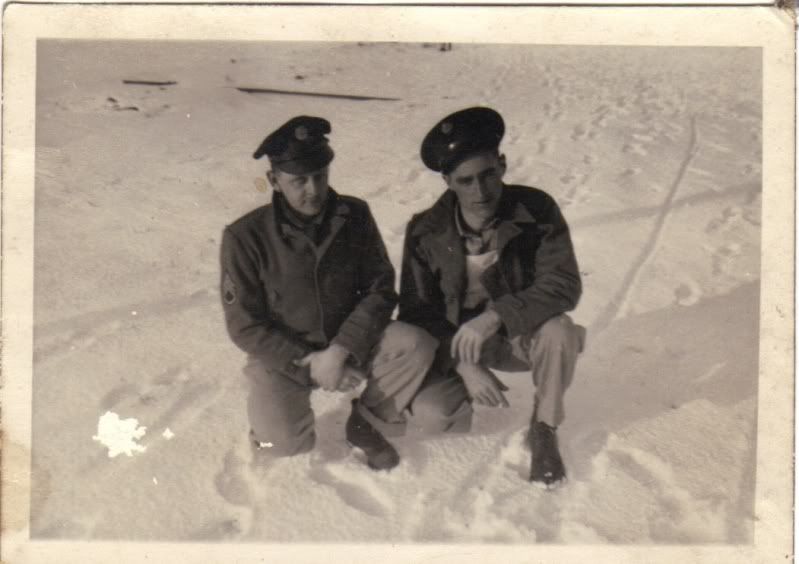 Jim is on the right.
Upon being discharged he met and was engaged to a woman from Abingdon, VA. Once back in Kannapolis, NC, he ran back into Ruby Hamilton and broke off the engagement he had to the other woman. One year after their reconnection they decided to get married.
Jim's picture taken with Ruby's neighbor.
Rather than having a traditional wedding, Jim and Ruby decided to marry without telling anyone right away. Ruby told her father she was going to Abingdon,VA to visit Jim's parents but instead they snuck off to York, SC to get married.
In 1948 there first son Mike was born in Abingdon, VA. The family spent the first couple months of Mike's life in Abingdon, VA.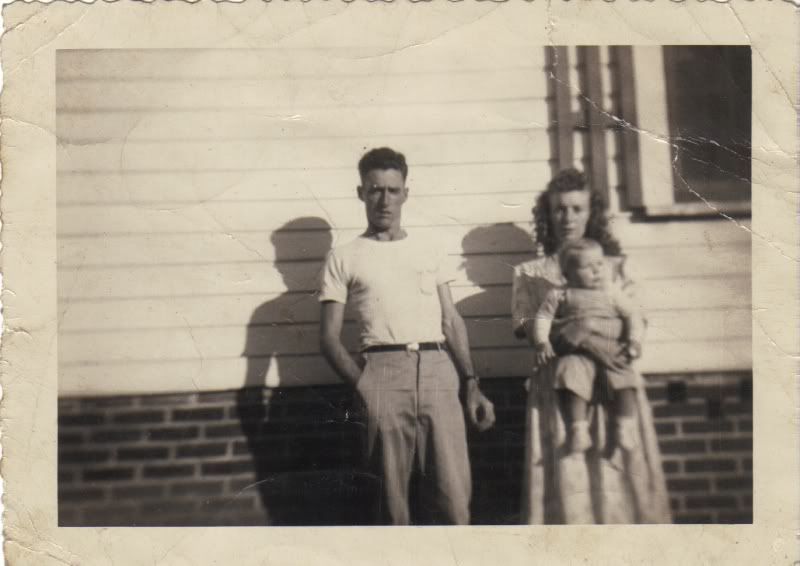 Jim, Ruby and Mike.
Around 1951 Jim went to a watch makers school in Spencer, NC and a jewelry school in Charlotte, NC. From 1953 until 1956 he was a Kannapolis Transit Bus Driver.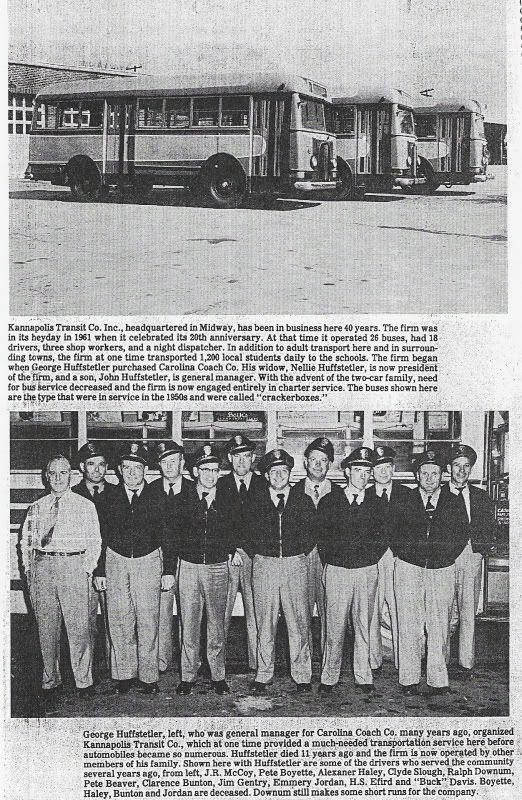 Kannapolis, NC Transit paper article with Jim Gentry in the picture.
In 1954 their second child ( my father) Stephen was born and In 1959 their third and final child (my aunt) Debbie was born.
In 1956 Jim got a job at the Hefner VA Medical Center as a nursing assistant. On his daily drive to the VA hospital from Kannapolis, NC he noticed a house for sale in China Grove,N.C and in 1960 Jim and Ruby bought the house.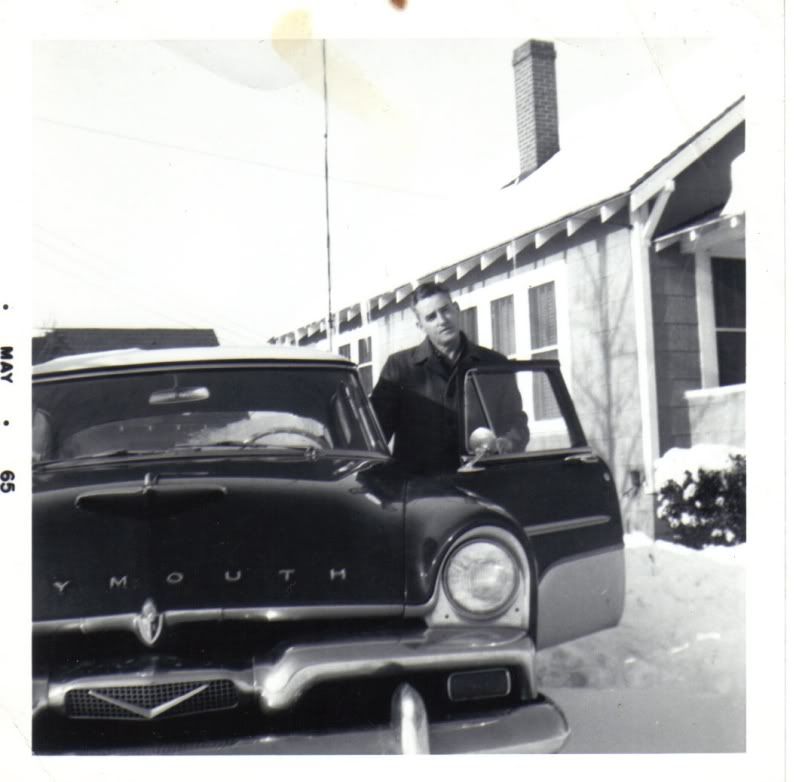 Jim Gentry 1965.
Jim worked for the next 25 years at the Hefner VA Medical Center and retired from their April 4, 1982. He spent his retirement raising gardens and tinkering with anything that had a motor. Lawnmowers, go karts,etc.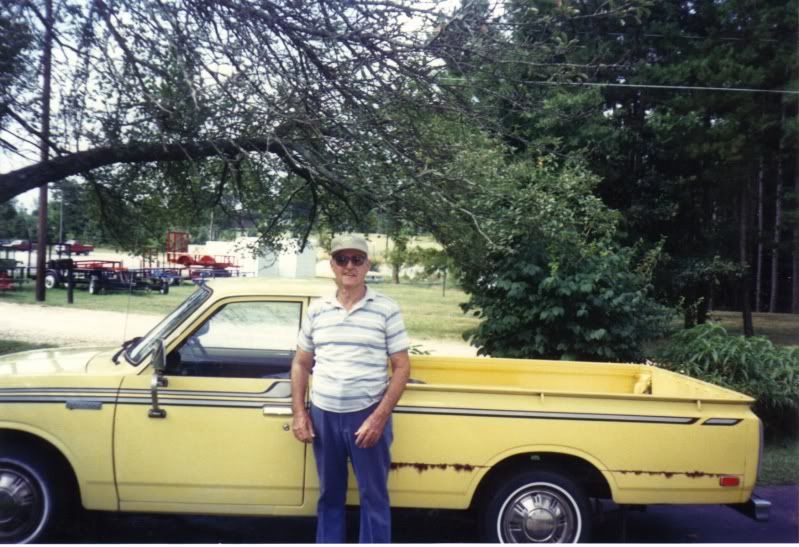 After a brief illness James Macklin Gentry died May 15th, 2004 at Carolinas Medical Center, Charlotte, NC. Jim is laid to rest at West Lawn Memorial Park Mausoleum, China Grove, NC.
My memories of my grandpa: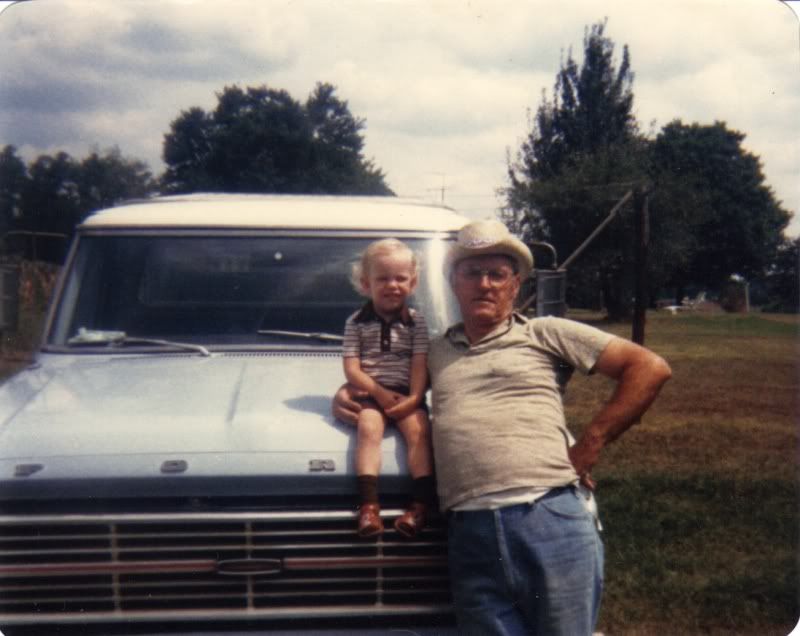 Jim Gentry and Randy Gentry (me).

I use to spend many weekends and summers at my Grandparent's house. When I was around the age of 6 or 7 my grandpa taught me to ride a bike. I remember helping in the garden, husking corn to store for winter and getting the green beans ready to bottle. I would cut the grass with the riding lawn mower while my grandpa would use the weed-eater. There were many days we would enjoy eating watermelon outside during the summer months. At dusk when I was younger Grandma, Grandpa and I would sit outside in the back yard in lawn chairs watching lightning bugs light up the sky as the sun set.
On the weekends we would watch the race together. His favorite driver was Bill Elliot.
One time he fixed up two riding lawn mowers for me and my brother to ride and built a small track in the field behind the house to race them on.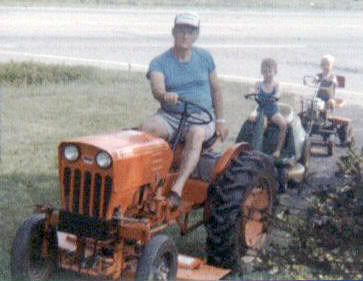 Jim, Randy (me) and Darren Gentry (my brother).
We would go shopping together and my grandpa would always ask the cashier how old he looked. They always guessed a younger (incorrect) age and he would giggle and tell them how old he really was.
Some weekends we would go to the flee market with my Great Uncle Rob (Hamilton). Other times during the summer we would go to the Charlotte Motor Speedway and check out the classic cars with Rob. These day when I go, looking back ,I am amazed that they were able to walk around that track all day looking at cars.
Tuesdays and Thursdays were wrestling night on TV. When I was around the age of 16, we would order pay-per-view wrestling events on Dish Network.
Another thing my grandpa would do that a lot of people probably don't know is hum and make up silly songs. It was kind of annoying at the time but it is a great memory for me now.
He is responsible for my love of wearing hats. He always wore a hat while outside and also most of the time when we went shopping.
At the age of 18 I owned a 1987 RX7 that didn't have working A/C. My Grandpa and I went to Moorseville, NC to look at Chevrolet S10s. We test drove an S10 together, I didn't think anything of it when he asked me if I liked the truck. I said "I love it" and he said we should get it. That was a major surprise considering I was just expecting to go look at trucks not actually buy one. I was ecstatic when I got that truck and I still have It. I love my S10 to this day, probably mostly because it reminds me of my grandpa and intend to keep it for the rest of my days.
I'm glad my wife got to meet my grandpa. At the time we weren't married yet and my grandpa liked her long hair. He said I should marry her.
About two weeks before he passed away, I told my grandpa that I was planning to join the Air Force. He didn't really like the idea of me joining, however, he was one of my inspirations to join.
I really miss my Grandpa and think about him often. He's one of the few people that were always proud of me, even though I hadn't accomplished much at the time. I think he'd definitely be proud of me now.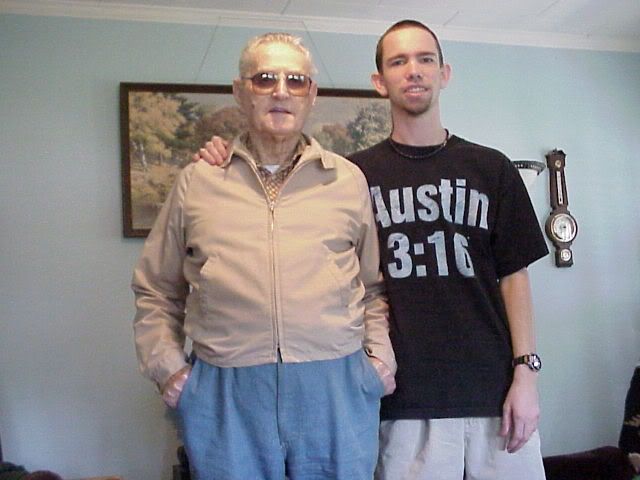 Grandpa and I around the year 2000