When I first started family research in 2005 I didn't know anything about any Gentrys past my Grandfather's (James Macklin Gentry) father, Noah Macklin Gentry. I wished I had asked a few more questions while my grandfather was living.
I slowly pieced together census records until getting back to William Gentry. I then came across a Marriage letter that had been signed by William Gentry and a John Gentry.
The letter read as follows:
State of Tennessee Carter County

Know all men by these present that we William Gentry and John Gentry are held and firmly bound unto William Carrol Governor for the time being and his successor in office in the final sum of twelve hundred dollars and void on condition there be no lawful cause to obstruct the marriage of William Gentry to Mary Oliver other wise to pay all cost and damages that maybe recovered in consequence of said marriage being unlawful giver under our land and seals this 29 of June 1834.
William Gentry seal
John Gentry seal
Jesse Cole Justice of the peace
State of Tennessee Carter County
To any license minister of the gospel or any justice of the peace in and for said county we do Empower you or any of you to celebrate and perform the writes of marriage between William Gentry and Mary Oliver and them join together in the holy state of matrimony husband and wife give under my hand at office this 29 of June 1834.

William Gentry
Mary Oliver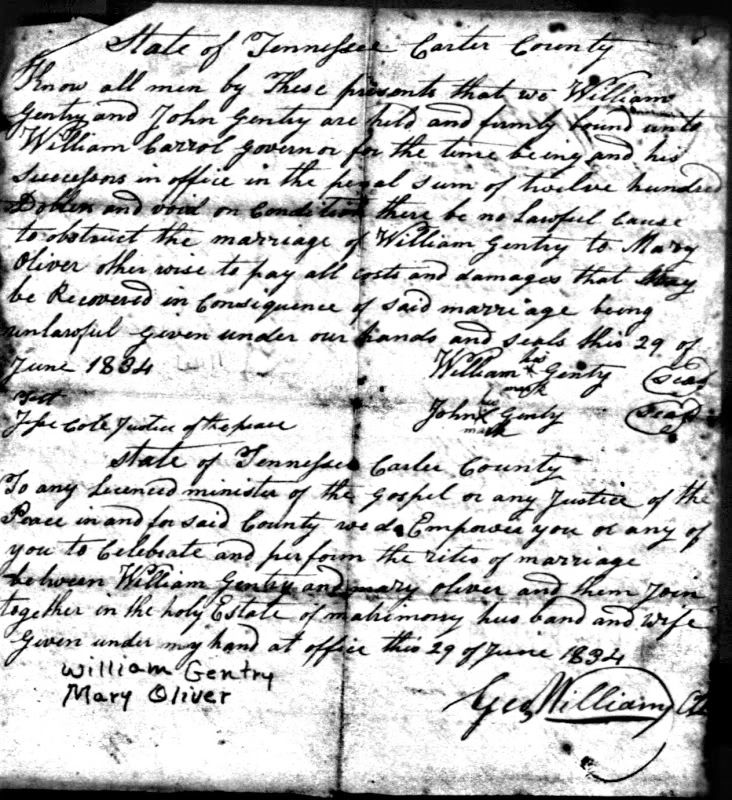 I sent this letter to my other contact (Nancy Casteel) that does family research on the Gentrys and she emailed it to Bill Gentry, the editor of the Gentry Journal website.
Here is the email to Bill:
To Bill Gentry at 3:47pm 12/9/2008
Is it possible that John Gentry and Sarah Brown are the parents of my William Gentry b.abt 1816 in Carter County, Tennessee d.Sullivan County, Tennessee who married Mary Oliver (daughter of George R. Oliver and Susannah White)? A John Gentry signed the marriage bond at the time of the marriage of William and Mary. I'm assuming a father would do this rather than a brother or other male relative. Below is the text of the marriage record for William Gentry and Mary Oliver.
Here is Bill Gentry's email response.
From Bill Gentry, Editor of the Gentry Journal:
I think your speculation is very probable. While William is not listed with John's family in the "History of Johnson Co., TN" (see also http://www.gentryjournal.org/archives/jgg04d.htm), he does not fit with the families of any of John's brothers, and time-wise he fits right between John's children Keziah (b. abt. 1813) and Elizabeth (b. abt. 1818). He is not listed in John's family in the first available TN census (1830 Carter Co.), but was probably the presumed grandson of Joseph and Winifred gentry in their census listing that year. William is of course included in the 1840 Johnson Co. and 1850 Sullivan Co., TN census records.
Here is the way it breaks down from as far back as we have the Gentrys in order.
England
John Gentry b. 1510 d. unknown
Simon Gentry b. 1549 d. 16 Dec 1652
Samuel Gentry b. 1585 d. 16 Dec 1562
Samuel Gentry b. 16 Dec 1627 d. 22 Oct 1697
USA
Nicholas Gentry b. 1655 d. 1736
Joseph Gentry b. 1685 d. 1766
Joseph Gentry b. abt. 1712 d. 1788
Joseph Gentry b. 15 Dec 1748 d. 22 Dec 1835
John Gentry b. 1777 d. abt. 1860
William Gentry b. abt. 1816 d. abt. 1876
Jesse James Gentry b. 1849 d. abt. 1900
Noah Macklin Gentry b. 8 June 1883 d. 29 Jan 1960
James Macklin Gentry (grandfather) b. 13 July 1916 d. 15 May 2004
Stephen Randall Gentry Sr (Living)
Stephen Randall Gentry Jr (me) b. 1980
Nicolas Ethan Gentry (my son) (Living)