I was amazed to find out how many Hamiltons that were buried at Mt. Mitchell Cemetery without headstones. Or even any documentation at all. We have 6 Hamiltons that I know of buried their.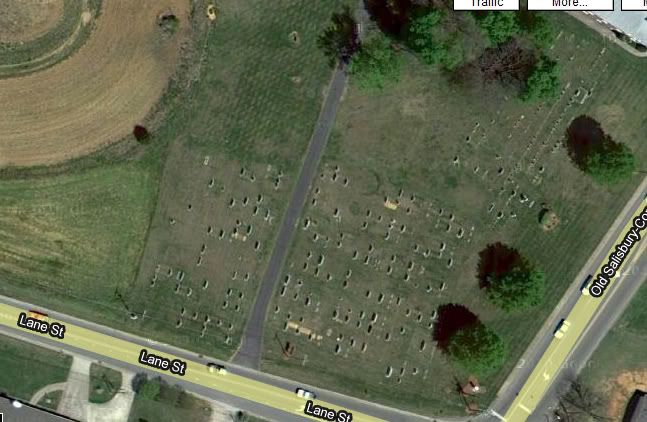 Overhead view of Mt. Mitchell Cemetery, Kannapolis, NC
When I first started my family research I knew 2 Hamiltons that were buried there, my grandmother's (Ruby Gentry) father and grandfather. My grandmother remembers going to her mother's (Oma Samathia Hamilton) funeral when she was 7 years old. Upon looking at the death certificates of Lola May Ritchie, Claudie and Jerwood Hamilton, I saw all three of them were buried there too.
A few months ago I decided I would try to contact someone at Mt. Mitchell Methodist Church to see if I could find any information on the location of the graves located their. She couldn't find any information on the graves, but was able to find another Hamilton buried there I didn't know about. She found Mary Francis Hamilton (Barnhardt) in a cemetery book by the Lore sisters. I wouldn't have ever found that out since death certificates didn't start until around 1915 in NC.
Document with Mary Francis Hamilton
The following is a list of the Hamiltons buried at Mt. Mitchell Cemetery.
1. Mary Francis Hamliton (Barnhardt) b. 20 Aug 1867 d. 31 Dec 1909
2. Lola May Hamilton (Ritchie) b. 1900 d. 27 Oct 1918
3. Jerwood Hamilton b. 26 Oct 1918 d. 27 Oct 1918
4. Claudie William Hamilton b. abt. Oct 17 d. 25 Oct 1918
5. Oma Samanthia Hamilton (Tilley) b. 18 Feb 1900 d. 18 Dec 1930
6. Charlie Heran Hamilton b. 22 Mar 1866 d. 8 Sep 1950
Reference to how each one is related to Claude Wilson Hamilton.
1. Mother
2. 1st Wife
3. Daughter
4. Son
5. 2nd Wife
6. Father
Claude Wilson Hamilton b. 07 Oct 1891 d. 29 Jun 1979
I asked my contact at Mt. Mitchell Methodist Church if it would be possible to add all the Hamiltons that are buried their to their website. She said she'd be happy too since I have proof that they're all buried there. She said she will add them once she is caught up on the website. So look for them on there in the future.